With "Home to Africa" in Kochel/Bavaria on 16th of March I sent my longest project ever
This is for you – the shit stormers of the climbing world: In midst of an ongoing, ever exacerbating refugee issue in my home country Germany, I call a FA Home to Africa. I might be – no, I surely am – a racist.  (You can stop reading now. Go to work. Spread the news!)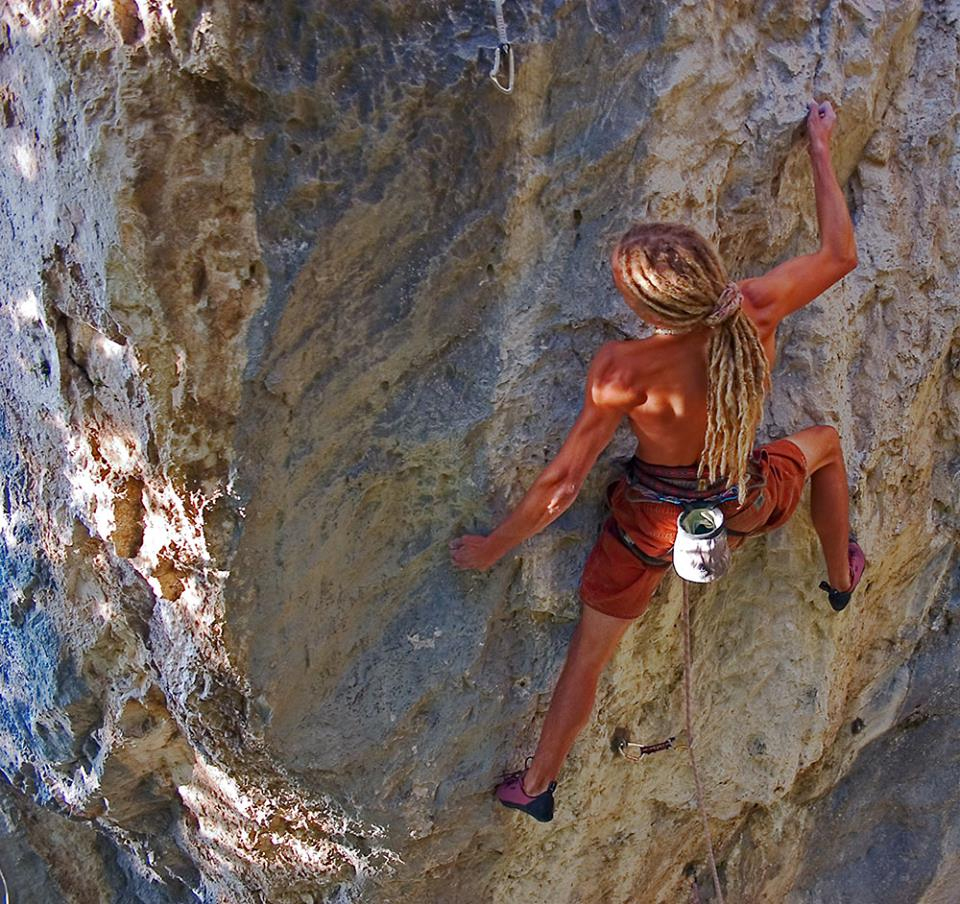 Home to Africa lies in a sector called Africa Wall where already routes like Go to Africa exist (Toni might be a punk racist, too?! Go, spread the news!), it is almost 30m long and consist of roughly 55 hard moves with one quite good rest point in between. It links the crux sequences of three routes (Baby Love, Des Wahnsinns fette Beute and QL) and changes on its way up not only the type of rock from whitish, edgy and quite gripless limestone to grey, rough, water shaped, best-possible-Kochel-limestone, but as well the style of climbing from compression corner and edge movements (in Baby Love) to fine technical wall climbing in the upper part. The overall crux lies up there, too, concentrated in one especially precise static cross move with another 15 ones that still might throw you off.
The name is because I returned home after 10 years in Switzerland in 2016.
I started working this combination after having sent QL in the summer of 2006 and carried on over the next ten years to try it then and when during summer vacations at home. Kochel is no summer spot, but in the same time I never came close to sending it, neither for example in a rather extended series of days on after our Passion Verticale book project in 2011 (having send three 9a, six 8c+ and a bunch of 8c during this trip). It felt pretty hard.
In 2016, after coming back from Patagonia, I came seriously close to the crux move for the first time, but the winter was faster and the crag isn't very sunny in winter. So I had to wait until last (damn rainy) autumn to find at least two or three climbable days in the route. Back then I was down to sometimes only 63kg (for 185cm), my Altiplano-Super-Powers would not run dry and I was basically flying through all my former projects, I could try in the few dry days of the season (these FAs are still unpublished due to current video production problems in the alpine region at 1800m). In Home to Africa I touched the small two finger pocket at the end of the cross move. But could not hold it.
Winter grabbed me again by my ***** and the year ran out without another climbing day in Kochel. So did the first two months of 2018. But then – after only one more week with minus 20° – some clear days were not only prognosticated, but really came to truth. (Before winter came back one week later. – But I don't want to complain, it ain't ET who changes the climate.) Already on the first day on I held the small pocket in the crux for one or two seconds, but the moves in the route are many and my skin was few. Still three weeks after cutting my skin in Via de la Capella (9b) in Siurana (just at the time, I was preparing for realistic red point tries), I have to climb with tape, so deep was the cut. Due to this 20 moves resistance project I didn't really have stamina, but was rebuilding it quite quickly on three climbing days in different Kochel projects.
Friday the 16th of March then is the last day before winter comes back another time, it already rains from time to time, the air is humid and about 6° cold and with only one day of rest after an intense session on Wednesday I don't feel very fresh (I prefer three days of rest before trying to send hard projects). To warm up, I climb as usually an easy route in the down part with the hard upper part after a rest in the rope. As usually I don't have problems to link it. (This section might be about one plus grade harder than QL.) It is always the first very intense 25 moves that change the feeling in this upper part completely.
But at some point in time every always has its end.
For example on this day. In the first try I manage to link the crux of Baby Love as planned but then directly forget about the method and get raveled up in my own confusion. However, what normally would pump me notably more than necessary, does not change a lot today. I arrive at the rest point and start to unfreeze my fingers. 10 minutes later I am done with it.
So I start into the following traverse part that makes the second big difference compared to QL (a part from the Baby Love). It has low feet, open, bad pockets, demands quite some compression and leads directly into the crux move (whereas coming from below – as in QL – is rather relaxed). Formerly I wouldn't even have thought about clipping the quick draw here and chalk the left hand, but today I do. This way I relax the left side and increase the friction for the slopy left hand crimp to come (in addition I can climb without tape for the first time).
I take my time to get the crimp perfectly, set the thump, and do the move. Rather chilled.
I was expecting to fall off in the upper part at least a couple of times, but I rather have to keep myself from starting a conversation with Ralf, who is belaying me 20m lower. I don't get pumped, neither does it feel like fighting at a single moment.
Instead, I have to admit: It feels like 7a.
And as over the last weeks I had to more and more accept that grading has not that much to do with objectivity, logic, or the estimation of one's personal strengths, as I thought it had, I drew the conclusion that I can't say with a 100% security that Home to Africais harder than 7a. So I'll be cautious this timeand won't give it more than 7a.
This only gets possible by negating the existence of hardly any internal consistency in our scale. (A fact I had to learn to deal with, as well.) Thus I don't think it is a problem that a 7a includes an 8b+ and an 8c/c+ sequence with a moderate rest in between. Please tell me, if you do!
In this very moment to me it did not feel harder, I swear! (Ralf said so, too: "It looked like 7a." – And Ralf is always right.)
Thus the longest project in my life turned out to be "only" 7a. But who says "only"? 7a is great. And the line is even better. Not to speak of the climbing. It still can happen that I fall off a 7a even today (on sight off width climbing with hard to read beta, e.g.), but this time I didn't. I did not even come close to falling. A great success on a great day!
12 years of work!
I stumble in disbelief.
And I honestly hope for you shit stormers of the climbing world that the amount of shit in your hearts may not be affected by neither this quotation nor this text. It was never my aim to make prosper and grow the negative emotions, that seem to shadow your live. (Unfortunately the letting-it-all-out-theory of aggression is rather outdated and science has shown that cultivating hatred only makes you hate more – but hey, don't give a shit about science! Who is logic? You are smarter than this! Make yourself great again! Make yourself hate again! Go to work, spread the news, let it all out!)
Life is beautiful!
– ups, sorry, wrong news –
Life was beautiful! (when I still was younger and stronger and needed less than 12 years for a 7a 😉