Fleeing the heat wave to the Southern Alp's paradise of high altitude climbing: La Saume.
We are facing the summer of heat – by running away from it. Well, rather driving away. Powered by fossil energy. Emitting I don't know how many kilograms of CO2. As if we would like to ensure more summers of heat. Perhaps even a heat age.
Who cares?
Do you?
We don't fly, we hardly consume meat, we think twice about making a fire once (another non negligible CO2 emitter). Can one call this progression (at least at the personal level)? Or is it just a sad phony comedy on an inevitable showdown of human civilization (there are studies that say we have only 200-800 years to go)?
What will future generations think about us?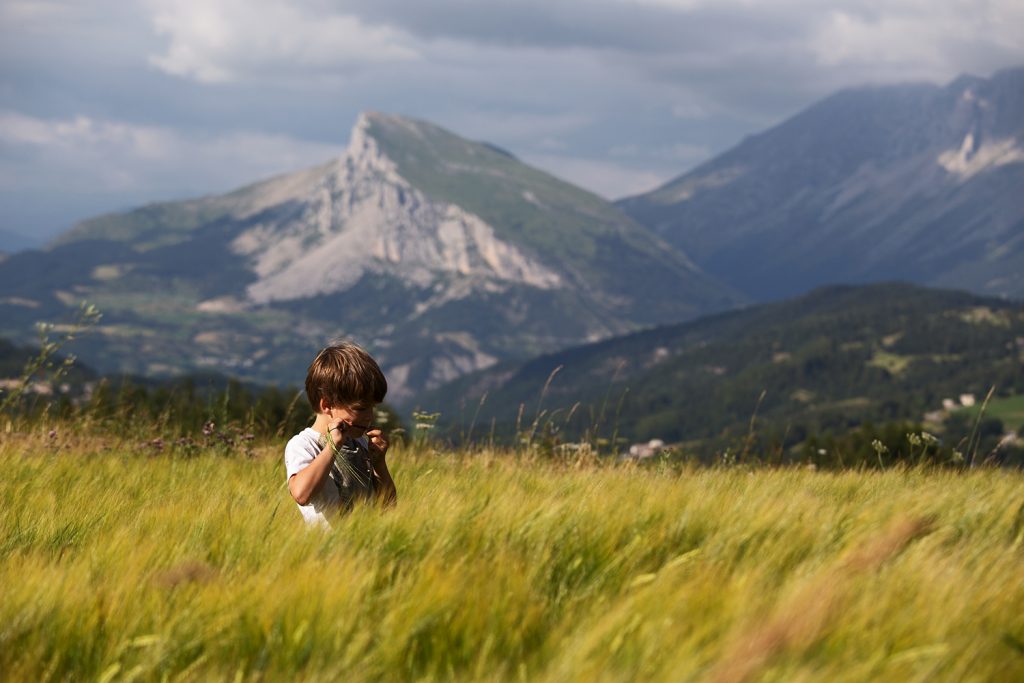 At least, the four of us are fleeing the heat "just" some 800km far to the southwest. Into the Alps. Southern France. Céüse. A dream I stopped dreaming eight years ago, in 2010 – the last summer without the four of us. Without a family. A dream I am daring to try to continue now, that our kids are six and three and know how not to fall off rocks or slope sides while their parents are bound together on the same rope, incapable to quickly execute any kind of bone and life saving maneuvers.
Now, that they know how to walk on their own feet. Even uphills.
Céüse. 600 meters of altitude difference, almost 30° in the shade – just without shade in this south sided giant slope side.
Well, my dream, besides the view, the atmosphere, the quality of rock, the smell of pines and cumin plants, is no particular one: Biographie. First real 9a+ in the world. But part of the online climbing community is trying to haunt me after each hard first ascent with their list of repetitions I should do before being officially able to climb strong. In this case I am fine with it, because Biographie definitely is a great line, great climbing, a little like a ladder though (no extremely creative moves) and without hard cruxes – but long and seamed with glorious pockets all over the way.
Nevertheless, getting there for the four of us stays an expedition. My daughter still needs to be carried the way up and part of the downhill. The water, too. The gear, the rope, the food. Normally I am less than 70kg – now I am more than hundred.
But: Our son walks all the way up in normal speed! One hour until the rescuing shade of the Biographie sector.
The rest of the day is just great, hot and dizzying. All moves and passages in Biographie work out first try. But this is not the performance bar in here. It is the stamina. The bad rest points. And more and more the lack of grip. Not yet real polish, but the original state of this line was definitely easier. Unfortunately our son gets caught in the thorns of the bushes doing the swing underneath Biographie and we return to the bus to get him a band-aid.
Back down my legs and feet feel totally destroyed.
Can this be a feasible way for working a high end line like this over several days? We have two and a half weeks at all – this could be enough, but at which price?
There are surely nicer ways to spend a family holiday than this.
And is it so important what people, that might even only be bots – or something in between – think about my score card? Ain't there any deeper sense in life than this?
There is! We'll come to know it two days later. And it has a name: La Saume.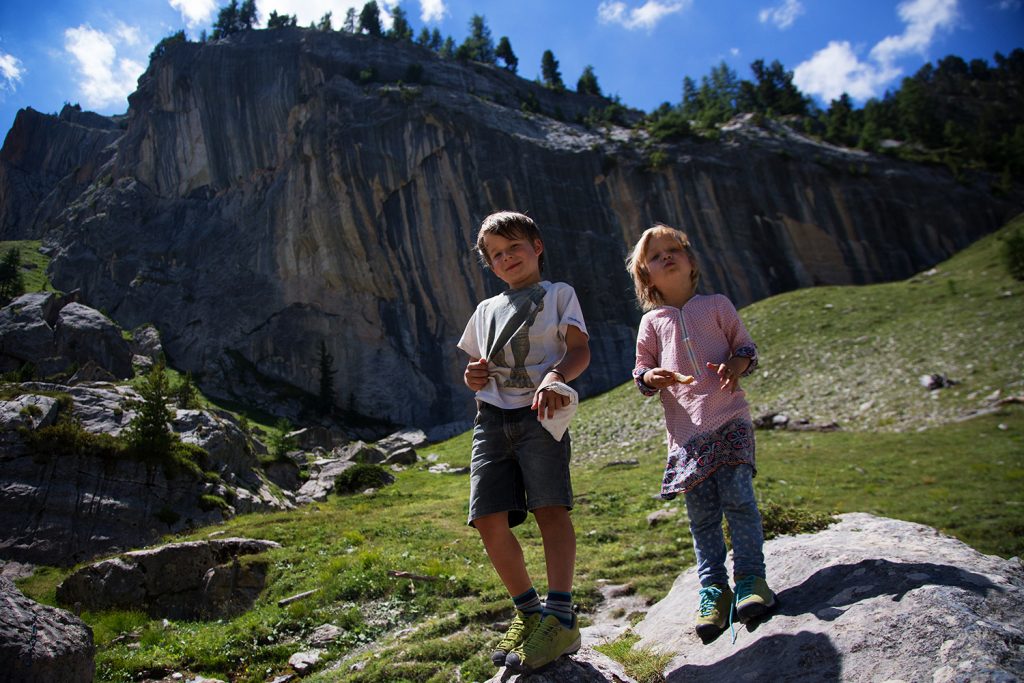 1,5h deeper into the Alps, higher up, 2200m and 2500m, shorter approach at least to the lower sector, a beautiful creek, boulders, flowers, sheep and two breathtaking walls (and some more to bolt). I can't remember any kind of feeling like this when I first stood in front of this piece of rock in Europe in the past ten years. Jaws dropping.
And the climbing isn't any worse.
There is just no ninth grade routes. But five 8c and one 8c+ (fourth pitch and thus out of reach for us) in the guide book. Thus, as well, quite a lot to do.
I decide to take it "holiday-wise" and train my "mental sending state" by trying to red point all of the 8c routes. Which will be much more important for my high-end projects waiting back home, that my biceps ever could. In addition I am slightly injured from another of these "reputation-erring-trips" that led me to Corona (9a+) in Frankenjura in the middle of summer and overstrained my forearm tendons in the habitual intention to do at least all single moves during the first try in a new route. (Franken is definitely the most harmful place to climb high end.)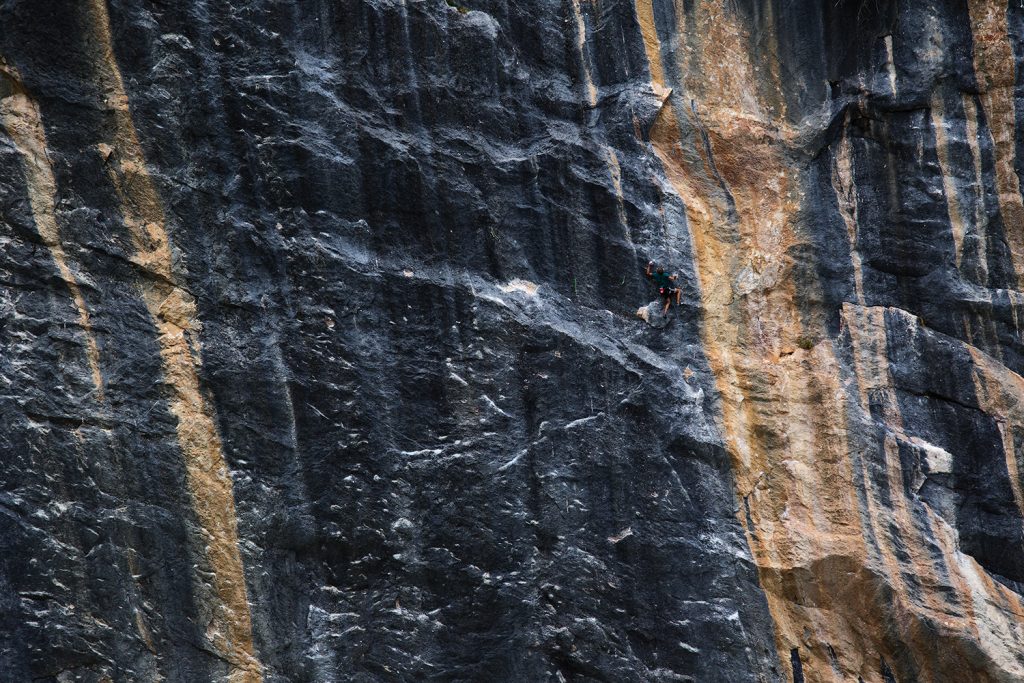 Luckily, La Saume isn't. A lot because there is more food work to do, the climate is way fresher and grip much better. (Often the best ways, besides warming up, to prevent injury.) Or to invent another saying: "An 8c a day, keeps the doctor away."
By mistake I do the FA of two shorter projects that are left to the right 8c in the guide book. You don't come closer to the goal to send all 8c routes by creating more of them…
The kids top rope the huge slabby boulders and dedicate themselves to the quest for everything that looks more or less like crystal. They find a lot of quartz.
After another try in Céüse – the weather even hotter and in stead of Biographie with Le Cadre (9a) and Mr. Hyde (8c+) two new projects – and Ailefroide (have you ever been on a campground with 5000 other people?) we return to La Saume – equipped with a tent and a stove. Like this we push up our advanced base camp just next to the first sector. And thus get in reach of even the upper one at 2500m.
Every morning is of crystal clear blue sky (and a little dusty new quartz) – every afternoon turns to true or near to thunderstorm. (Feels like this anticyclone weather, that boils up Europe since the end of April now, will never stop.) In the upper sector, that awaits us with shorter routes in even better rock and an outstanding scenery – not to speak of the perfect summer conditions while in Paris the struggle the 40° benchmark – I almost flash my first 8b+ in my first flash try of a hard route in years. After stupidly falling on the first hard move I return to the ground and send it directly afterwards. Finally up here the holds get as small as I like them and the climbing as precise as it always should have been.
Just right to it I fall visually (as men tend to do) in love with a new line that looks like a project (It will become the only route here, that I have to invest more than three tries and more than one day in.) At first it is just harder than the others, but then comes Lorenzo from Italy and helps figuring out the right grade by destroying one quite essential hold. (He catches the 30cm large flake in the air so that it doesn't get catapulted backwards close to our son sitting on the ground behind. Bravo!) Now, being tall becomes of crucial importance and after some six or seven tries the splendid line becomes supposedly the second 8c+ of La Saume.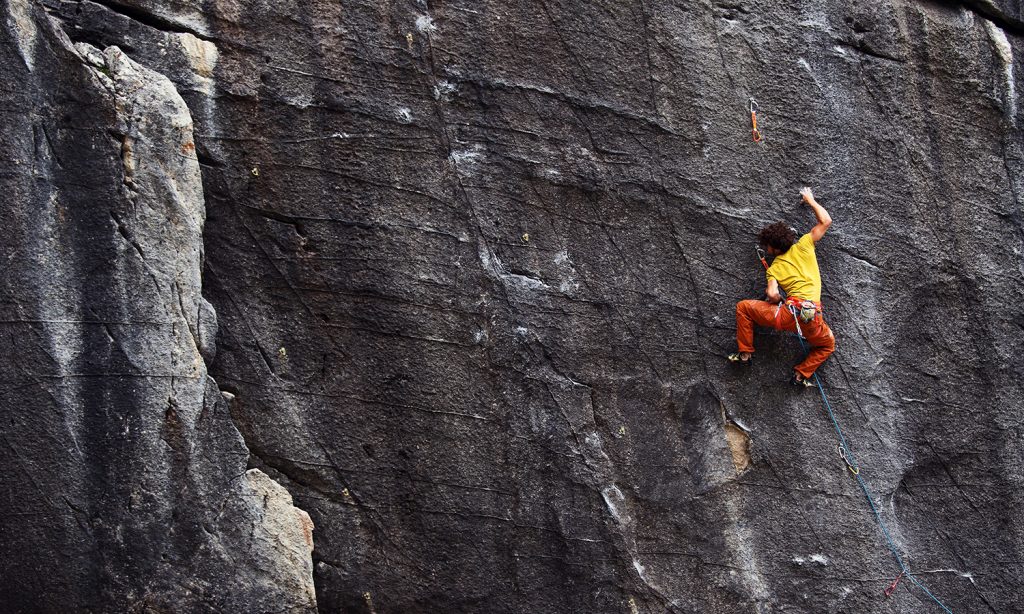 In six climbing days I repeat three 8c and one 8b+ and do three first ascents – two other 8c and the aforementioned 8c+. And as the saying says, my forearm injury is getting better every day. (The only doctor I see is my girlfriend.)
Nevertheless the whole effort of walking with heavy baggage, climbing quite a lot (compared to my causal two times per week) being outsides all the time and sometimes even suffering from the heat at above 2000m demands it's price once we return to our intermediate stop on the way back in Switzerland. For one day I get slashed back to bed.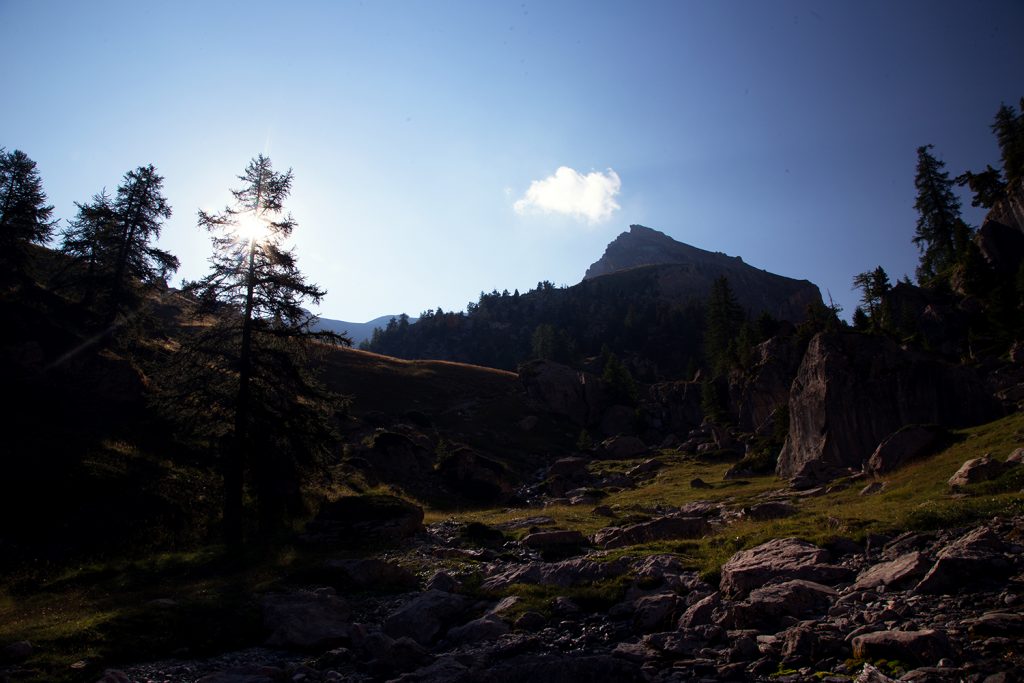 The next day though I am again up on my feet and to what another time – a last one? – became my central summer project even that it is 500km away from where we live: La Barrière in Jansegg above Fribourg. Where our hearts stay anchored to and part of the family lives. After having showed La Cène du (Roi) Lézard to Cedric Lachat I had to recognize that I hadn't found the easiest way to do the upper crux – the jump that I had fallen off so f***ing many times. Different foot holds and even another goal jug to fly to – and the whole thing becomes at least some easier.
Luckily there is always a way to make it harder. In this case the crux of the until May 2018 last unresolved line of the Jansegg – Focus Pocus (9a/9a+). The first meters already are a highly specialized 9a, demanding altogether body height, precision, finger strength AND an only modestly swollen upper middle finger digit of the left hand. Cedric apparently found it much harder than any part of La Cène.
I could send it one single time in seven or eight sessions. (Enough to red point Focus Pocus). But now it comes to linking not only 8c+ to it but 9a/9a+.
An epic fight.
In one of the rare summer spots of the Alps that merit to spend so many days there. Since so many years. Just as Céüse. And now: La Saume.
Beauty does not always have to lie on another continent. (Just as I write these lines, my daughter playing next to me tells the two of us a fictional holiday story – including the take off of a plane. 🙂
What only have we done wrong?