The Jansegg has a new high end line and since 9 years finally another Swiss climber is trying one of my hard Jaun Valley test pieces – Cedric Lachat in La Cène du Lèzard (9b).
The expression Hocus Pocus is supposed to stem from the Latin: "Hoc est corpus" (Hoc est enim corpus muem) – "This is my body". A part of the celebrate mess. And for me kind of a confession I have to make to myself every time I see a physically really talented climber in action.
"This is my body – with all it restrictions and weaknesses."
In this case it is Cedric Lachat in La Cène du Lézard (9b) showing me how it looks like when you are made to move. Not to contemplate. When I see him doing the crux jump I have to think: "Wow, am I weak. And, wow, am I static." He is double dynoing and thus rapidly slow downing again, where I have invested at least twenty red point intents trying to hold and control the swing with only one hand.
It looks so much easier the way he does.
(Cedric in one of his first tries of the jump)
And I can't even say, if I would do the same, it could look easy, too. Because I've never tried. I did not really dare.
I was aware that other climbers jump much better, but I did not think that this move could be so much removed in its importance to the grade.
That's the risk of every first ascender that climbs and works out sequences alone. What is my case since Daniel Winkler gave up climbing in 2009. And no other Swiss climber ever tried one of my high end lines or open projects. Until today.
And Hocus Pocus – this malapropism of "Hoc est corpus" that became a placeholder for cheap magic – hits quite well the meaning of what I made out of my restricted physical talents for sports in general and for this one in particular (a prestidigitator's trick): I tricked my mind, whenever I could, to be able to keep on believing that one day I would be a strong climber, concentrating on unequely my personal progress and motivating myself only by these little successes. It must have seemed ridiculous to the people in my environment. My parents believed my sister had more talent for climbing than me and it took me six months of daily blockage training to do my first pull up (with both hands notably).
Perhaps the central trick was not to focus on becoming a really strong climber. One of my life goals is (or was) to one day climb 8b.
When I now watch Cedric working in The Lizard King's Last Supper (La Cène du Roi Lézard) I feel much like what has become another meaning of the medieval term Hocus Pocus – the King's magician that is only playing tricks (on his own mind).
I am feeling physically pretty small.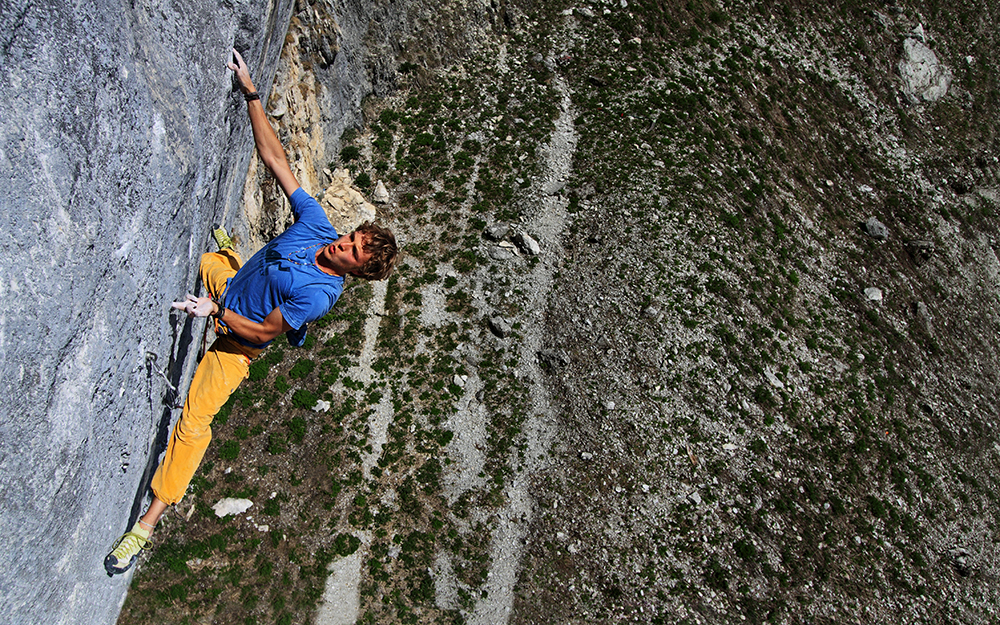 But probably I have to admit that this view is too subjective. With 184cm I am "extremely tall" for a high end climber. And I am not only standing there, watching Cedric, dropping jaws.
I am climbing, too. And I am even sending – by putting forward all of my physical talents.
Focus Pocus is the name of this line that always seemed impossible to me and only turned imaginable this springtime. Well, to be more precise, three climbing days ago, I deciphered the single moves for the very first time. It consists of a very hard to grade first boulder, a rather bad rest and an 8c+ to the top. Very hard to grade because contrary to La Cène du Lézard, which includes only very physical and dynamic crux sequences, that doesn't really suit my style, the first moves of Focus Pocus could be the best fitting to me strengths I ever climbed.
Because there is one big physical talent I have. It normally serves to roll "cigarettes" or to model making and so on, but it plays a central role in high end climbing as well: Precision. The focus of the pocus part.
The hardest single move of this first seven-moves-boulder is an extremely extended stretch out to a miniscule one finger pocket. It you don't hit it well, you won't hold it. If you are smaller than 1,80m you won't reach out to the foot holds and when you don't have my finger strength – I have to admit that my static power isn't the worst neither – you won't move at all in the whole sequence. And if you have thicker fingers than me – what should be the case for most of the very strongly trained high end climbers – you won't even enter into this mono.
To conclude: I loved it from the first try to the last. At all only six or seven, but pretty intense ones with very good internal and external conditions and a perfect sending go. Again tricking my body who wanted to fall off at least three times throughout the route by kicking it higher, adding desperate body wave after desperate body wave up to the freeing rest point some metres below the chain.
It was one of my best short time projecting performances, I new the upper part from some years ago and I am actually in surely the best shape of my life. All this on (or in) the ultimate made-to-measure-suit-route. Thus I will give it 9a/9a+ – my favourite grade these days but this time with a tendency to 9a+.
I clip the anchor and don't feel so small any more. Rather like a pretty well dressed Hocus Pocus.
And as Cedric is about to partly disenchant La Cène du Lézard – not in terms of beauty, as his double dyno looks great as well, but in terms of difficulty – I probably will have to add a crux that fits my style to this beautiful line: E.g. the first boulder of Focus Pocus. Replacing the 8b/8b+ start of La Cène by something pretty "9a-y" could barrier up the grade of La Cène in a more sustainable way.
Because my body may be relatively weak, but my mind will keep on playing tricks on him for surely some more years. And some more high end routes.
As in the end it all comes down to the strongest muscle: Our mind.